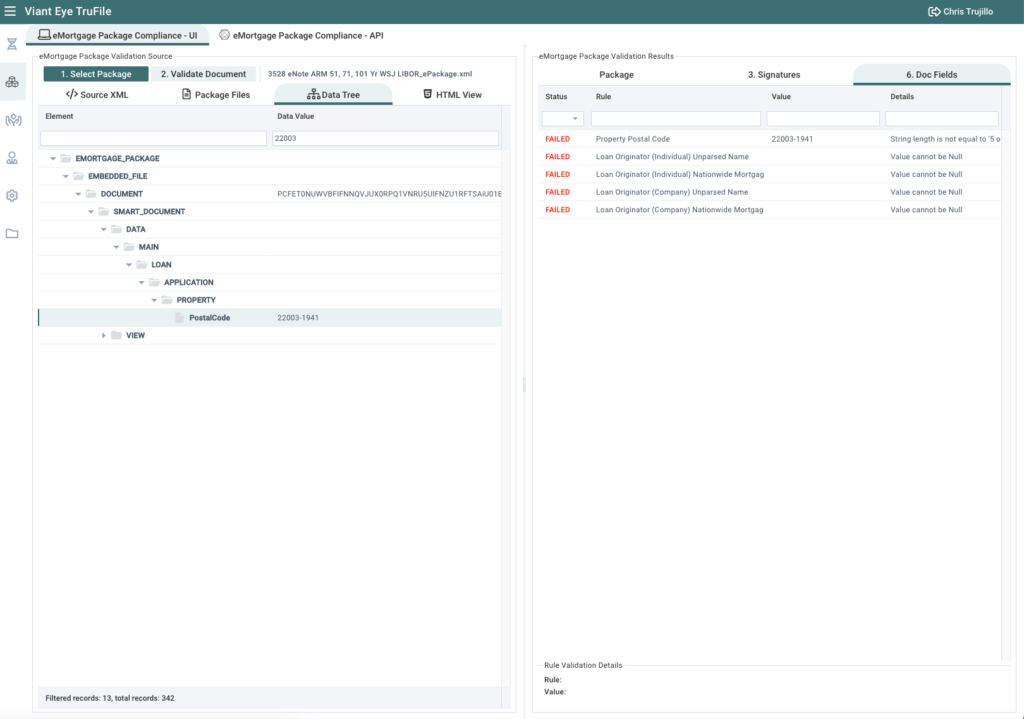 SMART Doc® V1 / V3 Compliance
Viant Eye's TruFile Validation platform is a comprehensive data validation solution for SMART Doc®, ensuring compliance with MISMO and investor requirements. TruFile streamlines interoperability, legal enforceability, and regulatory compliance while reducing time and cost for customers. With an easy-to-implement API and on-premises deployment option, TruFile eliminates the need for extensive expertise, freeing up internal resources and maintaining data security.
Validation of documents against the industry-standard Smart Doc specification
Comprehensive set of validation rules and error messages
Customization and extension capabilities for on-premises deployments
Leveraging Investor Datasets
Customizable Rules Engine
SMART Doc® V1 / V3 Generation
TruFile Generation, a cutting-edge SMART Doc® generation product, revolutionizes the mortgage experience by streamlining the creation and management SMART Doc's. With features such as easy mapping to industry and investor datasets, a rapid development UI interface, on-premises deployment, and customizable forms, TruFile ensures industry compliance and enhances efficiency.
Intuitive mapping to industry and investor datasets
Developer friendly interface enables quick and easy generation, editing, and management of mortgage documents
Secure, on-site deployment options to maintain control and safeguard sensitive mortgage data.
Easily integrate with existing mortgage and loan origination systems for a cohesive user experience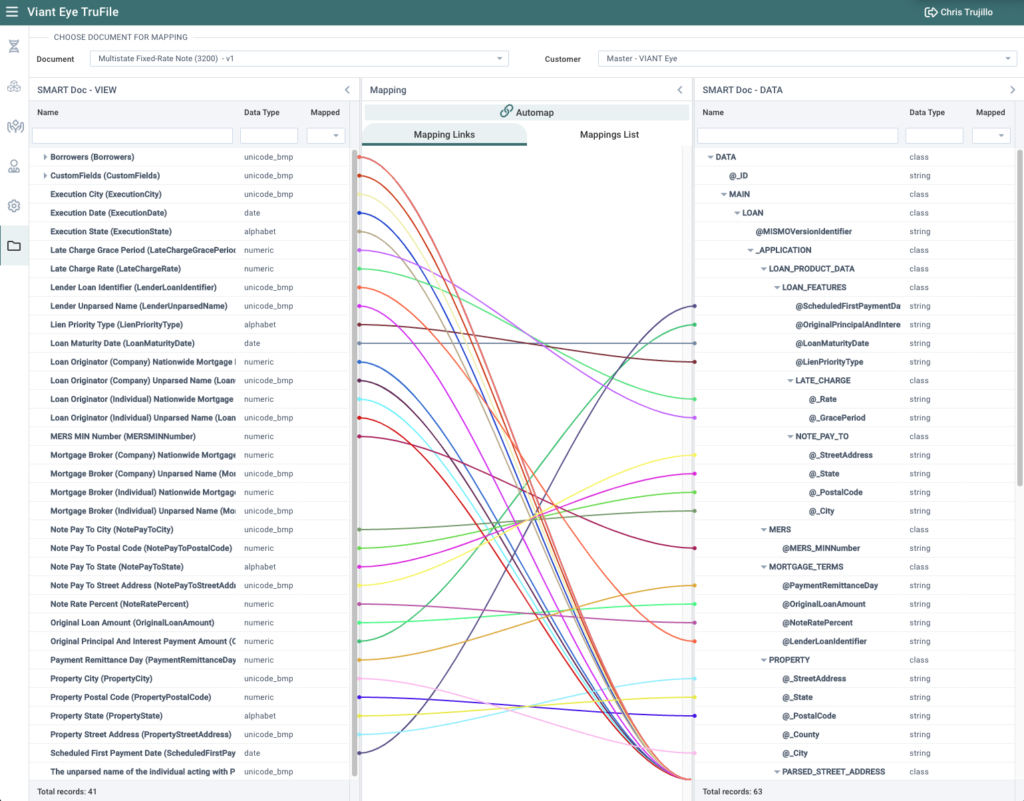 Includes the latest GSE-approved forms
Based on MISMO® Standards
Includes comprehensive SMART Doc® Validation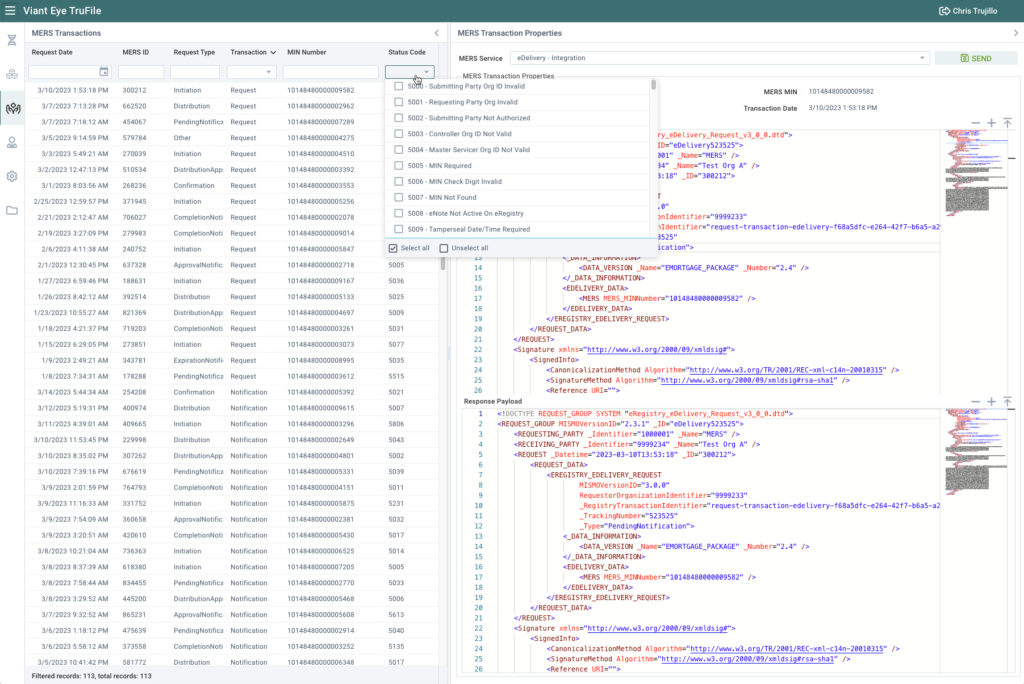 MERS® eRegistry Integration
Viant Eye's MERS® Integration solutions serve as a proxy for all eVault transactions, streamlining communication between your systems and MERS® eRegistry while providing invaluable insights and troubleshooting capabilities.
Real-Time Monitoring / Triage
Transaction Interrogation & Replay
Intelligent Transaction Routing
Localized Lifecycle Testing
Servicing Transfer Automation
Viant Eye Servicing Transfer platform is a comprehensive platform designed to streamline and automate the mortgage servicing transfer process, adhering to MISMO standards. This solution simplifies each step of the transfer process, enhancing efficiency and reducing the risk of errors.
Dynamic Timeline based on MISMO Standards
Questionnaire and Compliance QC
Multi-Platform Integration via MISMO centric model
Automated Data Transfer
Reconciliation report
Enterprise Schema Management & Service Designer
Viant Eye's Enterprise Schema Management & Service Designer is a comprehensive solution focused on managing the mapping to the MISMO model and associated APIs in the digital mortgage industry.
This tool enables technical teams to take a holistic approach associating datasets and API's to loan events, streamlining the creation, accessibility, and maintenance of schemas based on the MISMO model. By simplifying the management process, our service designer empowers mortgage professionals to effectively leverage MISMO standards and create standarized APIs for improved efficiency and collaboration.
Associate schema and services to business processes
Streamline creation, accessibility, and maintenance of MISMO API Toolkit-based datasets.
Accelerate adoption of datasets leveraging schema mapper
Change tracking (who, when, old, new)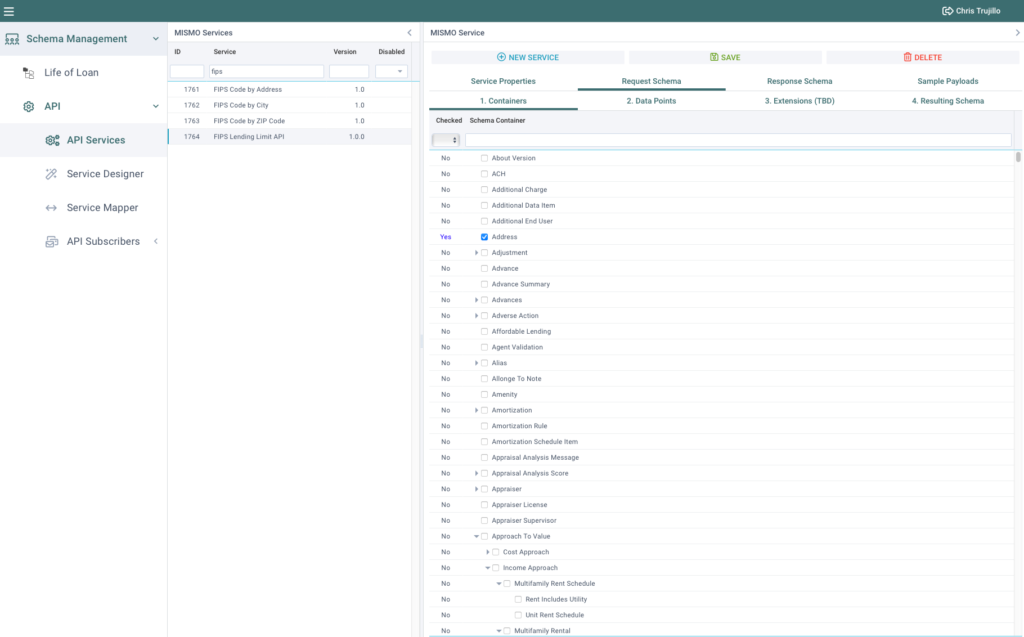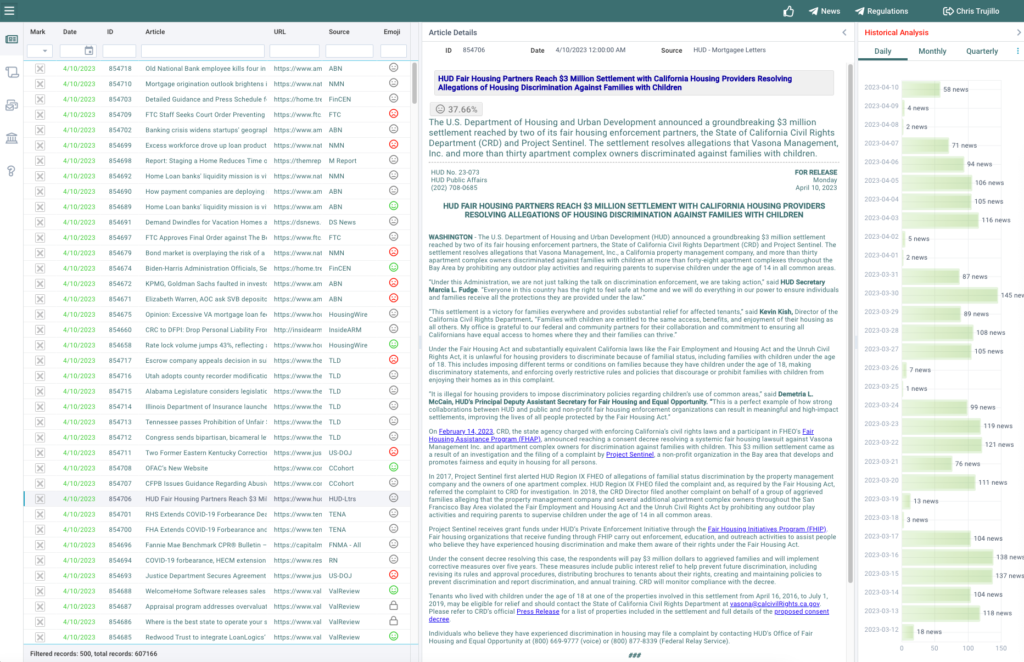 Regulatory Compliance Monitoring
Viant Eye's Mortgage News Compliance Monitoring provides mortgage professionals with a comprehensive resource to stay updated on industry news, regulatory changes, and compliance requirements.
Stay updated with the latest banking news, regulatory changes, and mortgage banking events
Access 60+ news sources and perform complex searches, with historical analysis from the 1970s
Utilize AI-generated article summaries, sentiment and trend analysis for quick and efficient research
Professional Services
Viant Eye provides professional services in the mortgage industry, utilizing extensive expertise and innovative solutions to streamline compliance, data validation, eVault transactions, servicing transfers, and regulatory monitoring. With a strong foundation in MISMO standards, our services are designed to address the evolving needs of the mortgage industry, enhancing efficiency and reducing errors while ensuring compliance with industry requirements.